The Rise of the Workation
Over the past year, our lifestyles, jobs, and travel habits have been significantly impacted by the COVID-19 pandemic. The travel industry in particular has undergone a number of transformations due to worldwide lockdowns and restrictions, with the World Tourism Organisation stating that the sector is one of the most affected by the pandemic. In the first half of 2020, global tourist arrivals decreased by over 65%, however, despite the current instability of tourism, one travel trend which has seen a huge increase this year is the 'workation': a blend of work and vacation.
Both businesses and employees are now more open than ever to remote work, and countless companies, including us at Nezasa, are increasingly offering employees more flexibility. Although the pandemic has brought uncertainty to jobs, it has also given new-found freedom to many workers around the world, and as remote working looks like it's set to continue into the near future, what are the opportunities and challenges facing companies in the travel industry?
What is a Workation?
Workations are vacations that allow you to relax and enjoy the sights of your chosen destination while working remotely. With many of us now able to work from our laptops, travellers are looking to escape the confines of their homes, and as mentioned in one of our previous blog posts, staycations are also on the rise, with a number of city dwellers looking for more space, freedom and fresh air after months of lockdown rules. 74% of Americans working from home stated that they would consider taking a workation, and in the UK, 51% of office workers would even contemplate moving to a warmer country in the case of another lockdown.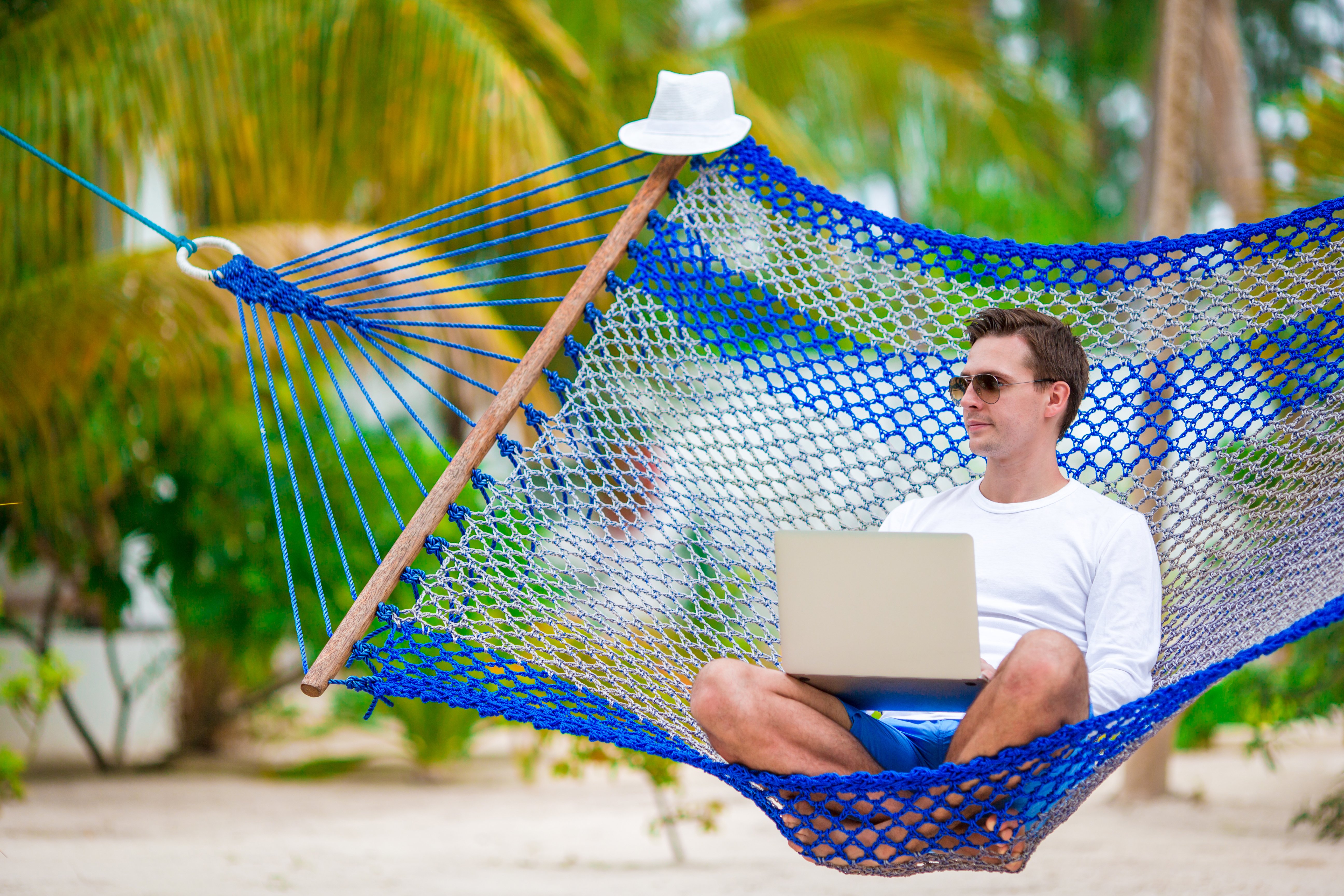 Remote Working vs Workations
Although the trend of remote working has been exacerbated by the pandemic, it's nothing new. In recent years, the rapid rise in technology has begun to make the appeal of the digital nomad lifestyle a reality, with many leaving behind traditional office jobs and choosing to travel and experience new cultures on a long-term basis while working remotely from their laptops, tablets or phones. Many people were already enjoying the perks of having a home office before COVID-19, however, the concept of the workation has become more prevalent as workers want to reap the benefits of travel while working simultaneously.
Types of Workations
One way in which accommodation providers have reacted to the changes in the industry is by offering long-term rates to guests, with special discounts for those choosing to spend weeks or months in one destination. A recent survey by Airbnb showed that those who have the opportunity to work from anywhere are actively booking 2+ week stays in smaller cities that offer access to natural surroundings, with increased interest in off-the-beaten-path accommodation options like cabins, cottages and yurts. Hotels such as Hyatt, Limelight Hotels and citizenM have also launched packages and deals for long stays in the USA, with facilities having been adapted to suit the needs of remote workers.
Although social distancing measures are still in place around the world, isolation due to the pandemic has increased the need for community. Many travellers are now looking to spend extended periods of time in co-living spaces or hostels that offer communal workspaces, exclusive events and workshops as well as the opportunity to connect with fellow nomads and enjoy a better work-life balance. Recently, Europe's first digital nomad village opened on the island of Madeira, Portugal, and similar offerings such as the Yoko Village in Costa Rica as well as projects like Remote Year and Wifi Tribe offer opportunities for remote workers to join communities of like-minded people in an array of destinations across the globe.
Digital Nomad Visas
The concept of the digital nomad visa is also on the rise, with Estonia, Barbados and Costa Rica boasting themselves as just some of the many countries now offering location independent workers the opportunity to relocate for anywhere between 3 months and 2 years. Encouraging visitors to spend longer periods of time in overseas destinations can help struggling economies that rely on tourism and boost local jobs.
Best Workation Destinations
With an ever-increasing number of digital nomad hotspots, we have compiled a list of some of the top destinations where you can enjoy a workation:
Aruba
Mexico
Singapore
Lisbon
Goa
Japan
Spain
Norway
Thailand
Bali
Innovation in Technology
Although the pandemic has had many negative impacts on the travel industry, it has also brought about a rapid increase in the use of technology. Companies both within and outwith the sector have had to transform their processes in order to keep up with swift changes and safety concerns, and both businesses and employees are now realising that spending days working in an office may not be as necessary or productive as was previously believed.
Software as a service (SaaS) offerings such as Zoom, Airbnb and Gmail as well as high-speed and widespread WiFi mean that it is now possible to set up offices and attend meetings in cafes, co-working spaces or even on exotic beaches anywhere in the world. However, an article by Forbes states that although remote work hotspots like Mexico and Antigua offer the appeal of a sun-soaked climate, limited or slow internet access is still a concern in some areas. Techmonitor also found that 56 out of 85 countries included in a new Digital Nomad Index had an average internet speed below 100mbps, the level needed for effective remote work.
Here at Nezasa, we are passionate about the innovations of technology in the travel industry. It is crucial that companies remain proactive and up to date with the latest technologies in order to offer increased freedom, ease and flexibility for remote workers and to help kickstart the travel industry and boost local economies. Although many of us may not be able to embrace the full digital nomad lifestyle just yet, a short workation, even it it means staying in one's own country, could be an excellent way to enjoy some much needed rest and relaxation after a year of being stuck at home.