How to Design and Book Travel Itineraries?
Imagine there was a fast and easy way to plan, design and book personalised itineraries with the click of a button?
Manually creating your customers' trips is a repetitive task that takes up valuable time, money and resources.
But, there is another way:
We are going to show you how you can effortlessly transform your travel company with the use of a simple and cost-effective itinerary maker.
What is an Itinerary Maker?
Itinerary planners like Nezasa's TripBuilder allow travel companies to create personalised and flexible trips for their customers all in one place on an easy-to-use and powerful online platform.
Want to know the best part?
Using an automated software solution gives businesses more time to focus on the customer themselves.
How to Manage Vacations with an Itinerary Maker
While travel booking sites such as Airbnb, Kayak and Momondo are useful when searching for accommodation or flights, itinerary makers allow travellers to plan, design and book their entire journey in real-time.
What's more, our software solution gives access to a comprehensive content marketplace where you'll find over 1 million hotels, more than 250 airlines and a wide range of tours, activities, car rentals and transfers as well as options to search for train and bus lines in multiple countries and access to our own descriptive, non-bookable content.
Whether your customer is looking to plan an unforgettable road trip or create the beach holiday of their dreams, the use of an itinerary planner is undoubtedly the best solution.
Itinerary Makers for Travel Agents
After a challenging year, the travel industry is restarting and businesses are looking for ways to attract new customers, increase sales and make their processes more efficient.
A recent report by Skift states that the demand for global travel is now at its highest level since the start of the pandemic, giving many opportunities for companies within the sector.
Research shows that travellers are now more likely to book their trips through a travel agent than before the COVID-19 pandemic, with agents able to offer the latest safety information and increase their customers' confidence. The use of an itinerary planner is a simple and speedy way to increase sales, satisfy customers and save time, money and resources.
In our technology-driven world, travellers are using digital tools to search for the best deals on the market. It is crucial for both traditional and online travel agencies to stay up to date with innovations in technology to meet the demands of today's consumer.
Planner Templates
Research by Epsilon found that 87% of consumers are more likely to book with travel websites that offer personalised experiences. Because travel is such a personal experience, travel agencies should focus on helping their customers to visualise their trips.
With Nezasa's TripBuilder solution, discover how to provide your customers with an inspiring and personalised proposal through our amazing curated itineraries which can be booked within minutes.
What better way to encourage your customers to book their next trip than offering a selection of pre-designed tours that will get them back in the travel mood within seconds?
Here are just a few:
Grand Tour of Switzerland
From palm-lined lakeshores to sparkling glaciers, from medieval villages to buzzing cities – the Grand Tour of Switzerland packs in an incredible number of sights. Discover some of the country's most beautiful destinations on this awe-inspiring route filled with culture, scenery and adventure.
As Switzerland's largest city, Zurich has a lot to offer; its picturesque setting between a lake and a river with the glorious peaks of the Alps in the distance is instantly mesmerising, and the winding cobbled lanes of the old town are filled with intact medieval churches, squares and quaint cafes.
On this route you'll also visit the stunning mountain resorts of Zermatt and Davos where you can enjoy activities like skiing, climbing and hiking before heading to the charming towns of Montreux and Lucerne to relax and soak up dazzling lakeside views.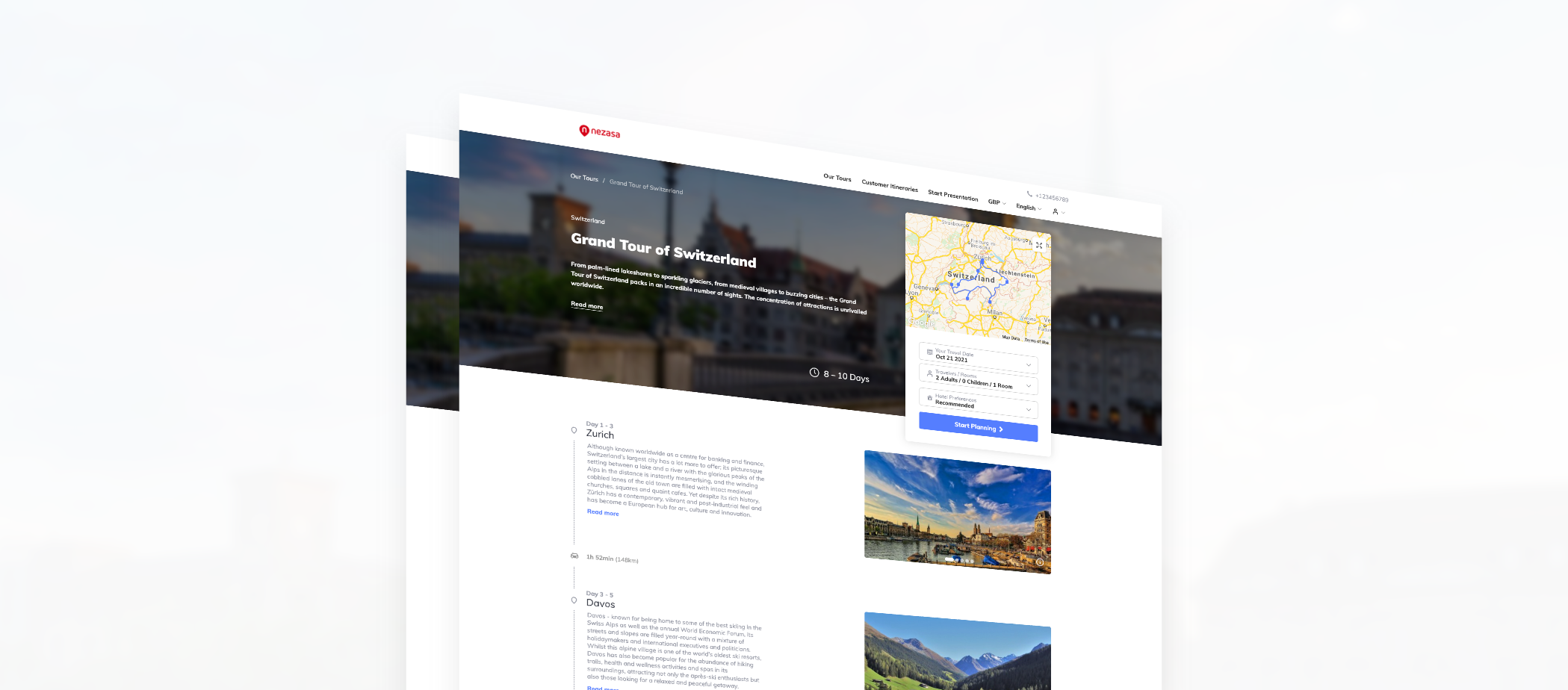 ---
Iceland's Epic Road Trip
Iceland's captivating scenery comes to life in this breathtaking tour where you can explore both bustling cities, quaint seaside villages and unspoiled natural wonders.
On the first stop you'll explore Reykjavik, the world's most northerly capital and the home to more than half of Iceland's population. Discover the city's thriving cultural scene before embarking on the trip of a lifetime where you'll drive through some of Iceland's most impressive landscapes.
Visit volcanic lakes and scenic fjords, relax in the world-famous Blue Lagoon, hike through glaciers in the Vatnajökull National Park and marvel at incredible wildlife in Mývatn on this unforgettable road trip.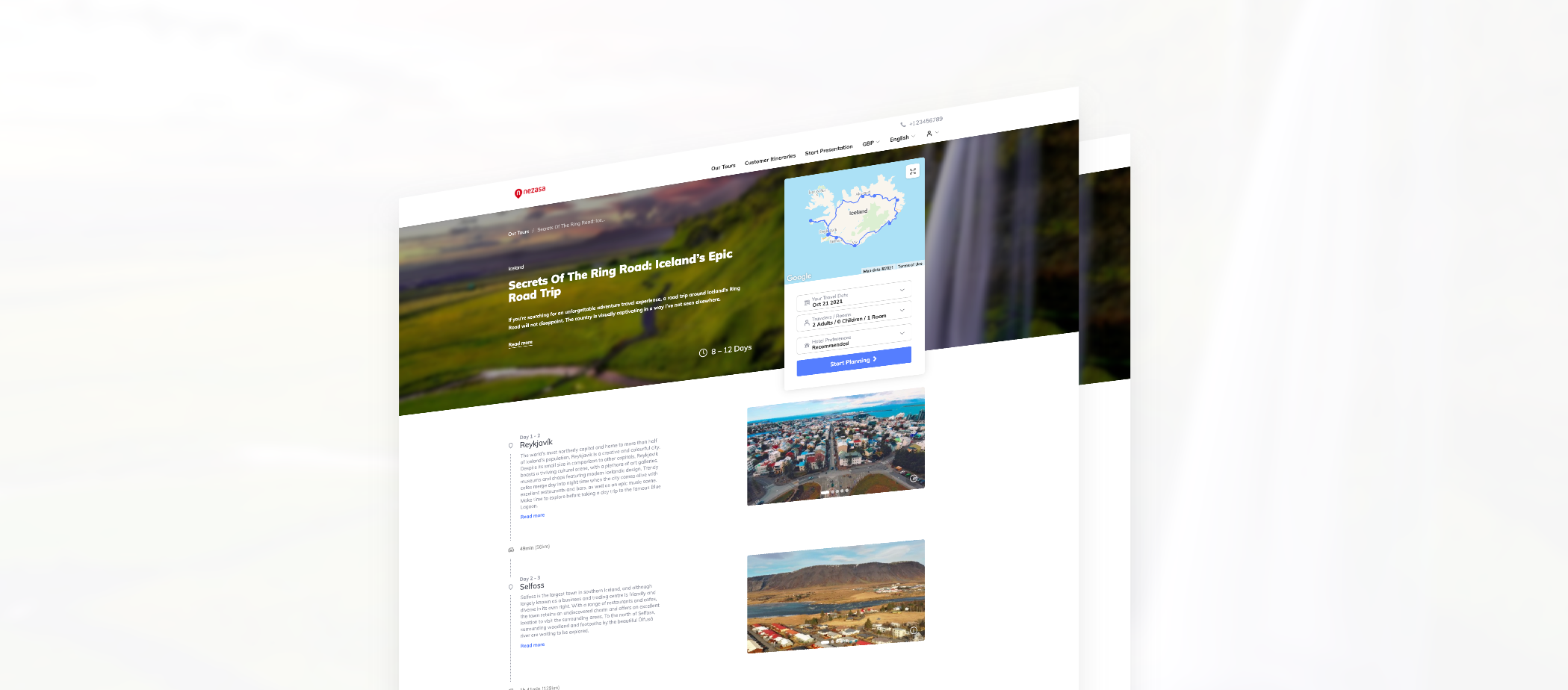 ---
The Trip of Your Dreams in Spain
This culture-filled tour of Spain is the perfect way to experience the country's rich history, stunning Mediterranean coastline and unique lifestyle. From the bustling tapas restaurants of Madrid to the dazzling Gothic architecture of Zaragoza, this varied itinerary is sure to make you fall in love with Spain's diverse offerings.
There is no other city that represents Spain as well as its capital. It combines economy, trade, culture and art with the traditional elements of the laid-back yet dynamic Spanish lifestyle, offering both world-class museums, lively nightlife, culinary delights and beautiful architecture.
End your trip in Barcelona, the vibrant capital of the Catalonia region, where you can marvel at Gaudí's iconic Sagrada Familia, stroll through the cobbled streets of the Gothic quarter or simply soak up the sun on one of the region's many sandy beaches.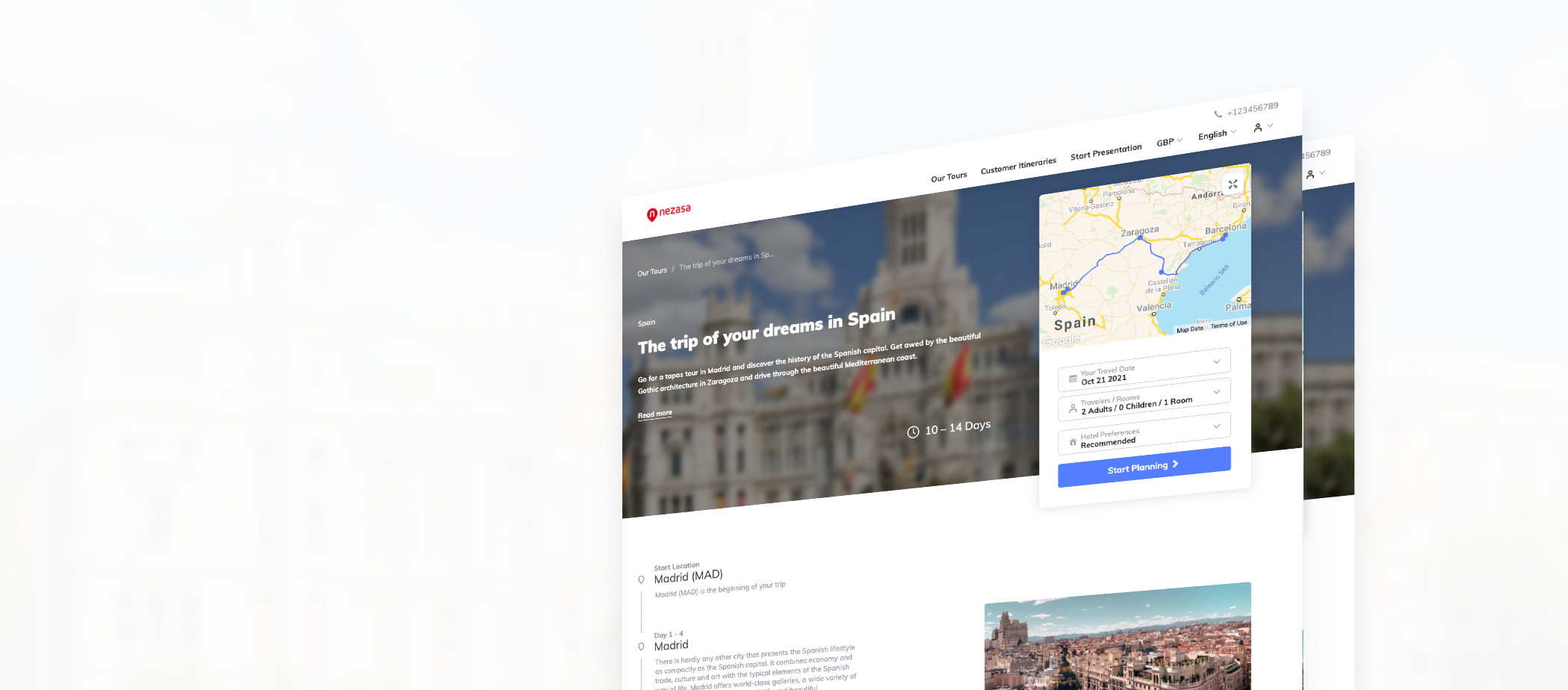 ---

Looking for more information on how our bleeding-edge software can help to boost your business? Make sure to join our next webinar to find out.